OEM Automotive Parts Manufacturing Business
The Company's main business is to manufacture and distribute automotive parts to automobile manufacturers in Thailand and overseas and has invested in subsidiaries and joint ventures with automotive-related commercial operations. The products and services of AAPICO Group and its subsidiaries can be categorized by their main business characteristics as follows: 1) OEM Automotive Parts Manufacturing Business, which includes developing, manufacturing, and distributing assembly jigs and stamping dies for automakers and assemblers locally and internationally. 2) Car Dealerships and Services Center Business 3) Internet of Things (IoT) Connectivity and Mobility Business. Further details of the Company's businesses can be seen below.
OEM Automotive Parts Manufacturing Business
The Company has a robust OEM presence in Thailand, China, and Portugal. The Company produces a wide range of automobile's components, for passenger cars, pick-up trucks, agricultural machinery, and the electronics industry, using various techniques and technologies. The Company's products consist of metal forming parts, plastic parts, casting parts, forging and machining parts, and tooling, which consists of assembly jigs and stamping dies.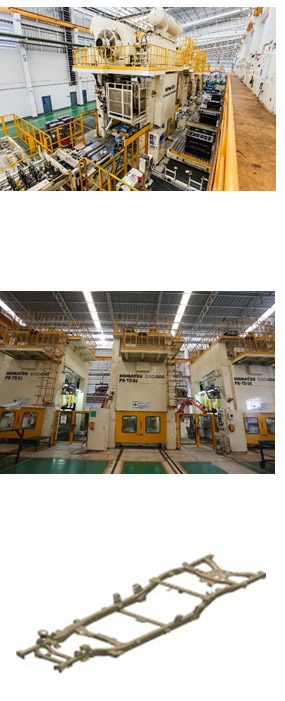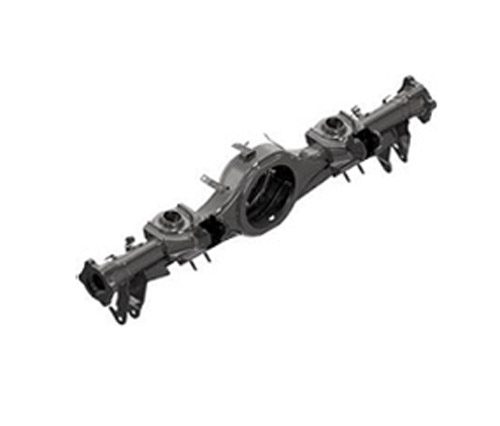 Pressed and Stamped Body Parts
AAPICO manufactures high-quality metal stamping body components for passenger and pick-up vehicles. The main products include floor parts, cross members, side sills, brackets, clips, and sub-assembly parts.
AAPICO designs the dies for each component to ensure that all dimensions of the product quality are perfect before sending them to proceed with their next manufacturing steps. Therefore, this confirms that every of the Company's components are produced with the high production standards. The main customers for these products are Auto Alliance Thailand (AAT), Isuzu, Nissan, and Toyota, etc.

Chassis Frame Components
AAPICO Structural Public Company Limited is the sole supplier of chassis frame components to Isuzu for pick-up vehicles. The company has a fully integrated manufacturing process for metal stamping parts using coils, starting from die design, simulation, and making, through to production of the complete assembly parts.
In this plant, there are over 300 robots deployed on the production lines. The company has a production capacity of approximately 400,000 frame sets per year. Starting in Q3 2020, the company ran its production at full capacity with two work shifts of 10 hours each. In order to reach the required numbers, it additionally boosted the capacity of its blanking line and press shop by outsourcing to AAPICO Group enterprises and other third-party companies.
Banjo type Housing Axle
AAPICO Amata Company Limited, located in Chonburi province, began producing housing axles – which are components for rear axle assembly – in 2015. The production process starts from reforming the steel coil and stamping the steel sheet into sub-assembly parts. After that, each component is welded into axle pieces and sent to the customer to complete the rear axle assembly. For housing axles, the company main customer is American Axle & Manufacturing in Thailand.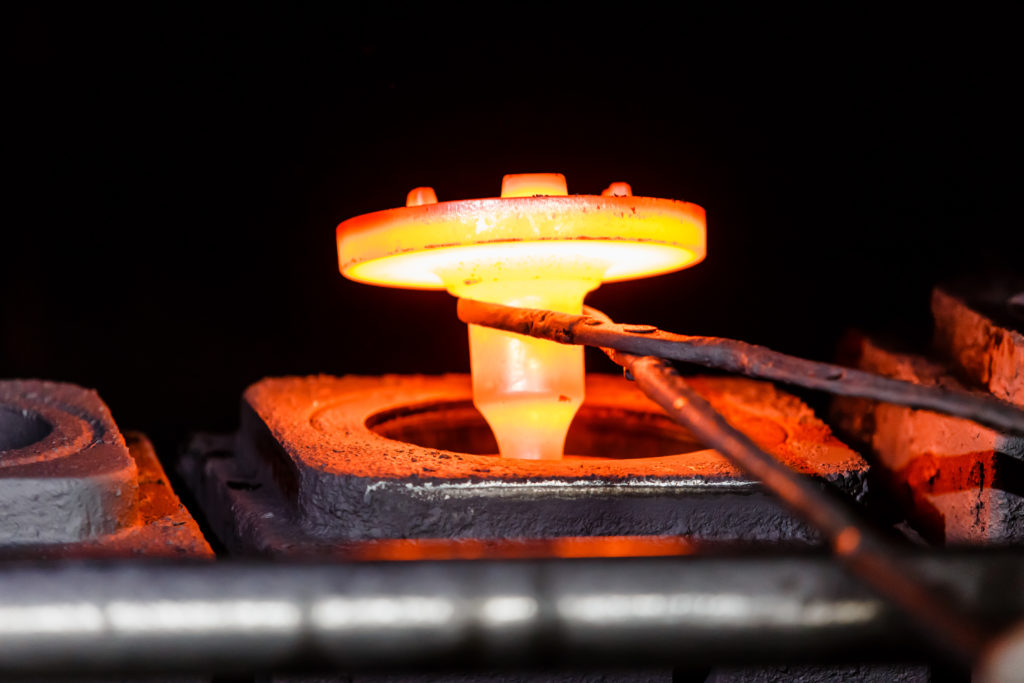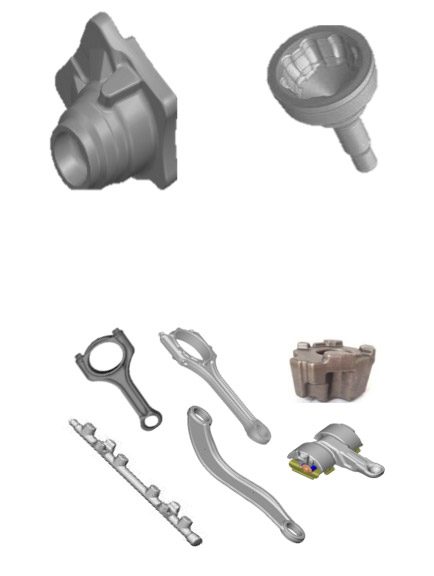 Forged Parts and Machined Parts
AAPICO Forging Public Company Limited and AAPICO Precision Company Limited, located in Chonburi Province, are the manufacturers and suppliers of forged and machined automotive parts for automobile and motorcycle assemblers in Thailand and overseas. These products are parts for transmission systems, power train systems, steering and suspension systems, engine parts, shafts, wheel hubs, link shafts, companion flanges, and others.
In addition to the operations in Thailand, AAPICO also has forging and machining facility in China namely Kunshan Chaitai-Xincheng Precision Forging Co., Ltd. (AK) is located in Jiangsu Province, 30kms from Shanghai. The main products of AK are connecting rod, pump housing, high pressure common rails, and engine parts. The company also manufactures other products such as camber link for chassis system of Volvo, braking pawn for braking system of GAC, copper products for Schneider, etc.
AAPICO produces both hot-forged and cold-forged products. Forging is a metal-working process that involves heating steel billets using an induction heater or deforming them at ambient temperature and compressing them under tremendous pressure to form metal into various forms. Forged parts are completed via machining processes using CNC machines for their precision before delivery to customers. Some products may be subjected to a final heat treatment to harden the steel, or they may be surface coated to meet customer specifications.
The companies conduct business with customers from around the world. For Thailand operations, main customers include Auto Alliance Thailand (AAT), American Axle, BorgWarner, Dana Spicer, Ford, GKN Driveline, Mazda, NTPT, and NTN. As for the facility in China, Beterler, Changan, Chery, Delphi, Ford, GAC, Knorr-Bremse, MAXUS, SAIC, SGMW, and ZF, are among its main customers.
AAPICO possesses outstanding capability to provide forging and machining parts for OEMs market. With the ability to design and manufacture forging dies and fixtures in-house, along with the utilization of CAD/CAM/CAE technology to maximize the potential and efficiency of the forging and machining processes, the company exerts a considerable presence over its competitors in the field.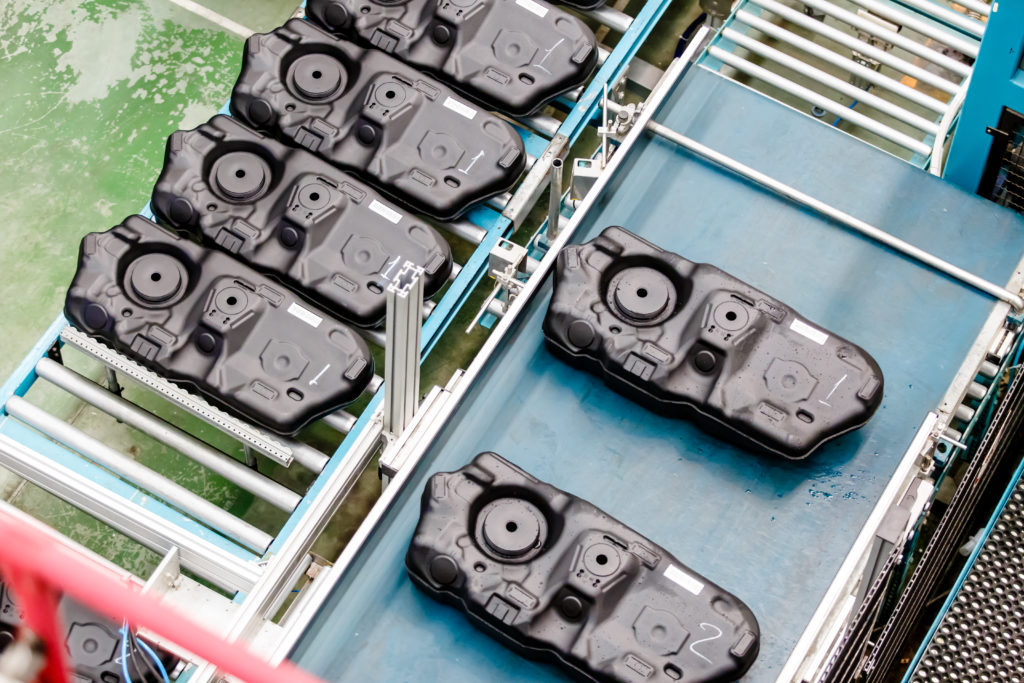 Plastic Parts
AAPICO Plastics Public Company Limited, based in Samutprakarn's Bangplee Industrial Estate, manufactures plastic parts for automobiles, motorbikes, and household appliances.
Plastic parts injection process started from selecting proper resin, putting the selected resin into the Plastic injection machine with suitable heating temperature to make the resin melt and ready to be injected into the mold in order to form up the product designed shape. The next step is to wait for enough cooling time before ejecting the part out from the mold, and then proceed to the final step by cutting the runner to separate the part to be assembled and/or packed – ready to ship out as finished good part to the customers.
The company's major customers are Auto Alliance Thailand (AAT), Ford, Honda, Isuzu, Nissan, Yamaha, and others.
The company has over 42 years of plastic injection experience in automotive, motorcycle, and all other consumer product industries where the company can provide its one stop service to customers – starting from part design, mold design, plastic injection, sub-assembly, painting process, and all kinds of part testing as per customers' standard requirements. Not only that, but the company also has the ability to support mold making and maintenance service to satisfy customers. Moreover, the company possesses the flexibility to produce high volume and/or limited quantity of production to support both OEM and REM businesses.

Plastic Fuel Tank & Windshield Washer System
AAPICO Plastics Public Company Limited, situated in Amata City Industrial Estate, Rayong, produces and supplies plastic fuel tanks and windshield washer systems with technological assistance from Kautex Textron, USA.
The company's H42 blow mold machine was made by Kautex – Pioneer of Plastics Fuel tank maker – completed with full automated blow molding process, water cooling process, and components welding process. All processes functionalities are fully supported by Quality-systems for traceability.
As of now, the main customers for plastic fuel tank and windshield washer system are both OEM and REM, such as Ford, Mazda, and SAIC (MG), etc. In addition, the company will produce and provide the products to Mitsubishi in the following year.
AAPICO Plastics Rayong was awarded as the AAT Top supplier in 2021 and was awarded with the Grand prix award in 2015 by A-ABC activity – thus promoting the company's reputation in the business. The company's partner, Kautex, has global experience from working with BMW, China OEMs, Ford, Mercedes-Benz, Volkswagen, and Japanese OEMs such as Mazda, Mitsubishi, Nissan, Toyota, etc. Kautex cooperates with AAPICO as a technological assistant company for not only Research and Development (R&D), but also manufacturing. As a result, AAPICO's technology developed on the same level as Kautex's. This granted the company an undeniable technological advantage over its competitors in the market.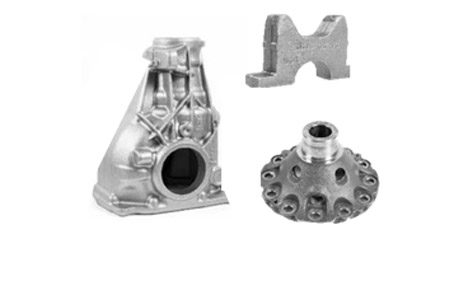 Casting Parts
AAPICO Maia, S.A. and AAPICO Águeda, S.A., large companies in Portugal, specialize in the production of safety critical components in nodular cast iron, serving primarily the automotive industry in the European market. Over the past years, AAPICO Maia, S.A. and AAPICO Águeda, S.A. have demonstrated technical and environmental excellence, being considered benchmark companies in the foundry industry. These companies are developing and producing lightweight casting solutions, grouped as follows: powertrain (48%), brakes (33%), engine (12%), and suspension (7%). AAPICO Maia, S.A. and AAPICO Águeda, S.A. sell about 26 million components per year.
Foundry process is a millennial process, but always actual. The most common process is the sand mold process. It consists of the usage of pattern plates (tooling) to mold the negative shape of a part to be produced in a sand mold. Liquid melt, obtained in high temperature furnaces, is then poured into the sand mold – filling the entire cavity. After solidification and cooling, the part is removed from the mold, cleaned, and is ready for subsequent operation, such as machining.
AAPICO Maia, S.A. and AAPICO Águeda, S.A. currently supply ductile iron safety critical components to BMW, Daimler Trucks, Ford, Mercedes-Benz, Renault, Stellantis Group, Volkswagen, and as Tier 1 and as Tier 2 to CIE Automotive, Continental, Dana, and Linamar. France, Germany, Hungary, Italy, Slovakia, Spain, and Sweden are among the company's primary markets in Europe. The company also exports to worldwide markets including America, Asia, and Africa.
Foundry process allows a high production rate with lower cost compared to other production processes. Its major applications are transports (cars, trucks, trains, and boats), machines and equipment, infrastructure, and water systems.
Additionally, foundry is an important industrial process in the circular economy, as it uses steel scrap as main raw material and reuses a considerable amount of the molding sand. Although it uses up an intensive amount of electricity, more advanced foundry companies such as AAPICO are able to obtain a significant part of their energy through renewable sources.
AAPICO advantages rely on experienced team – namely at engineering level – in offering new design solutions and efficiently supporting the foundry. The company can specially highlight the absence of fettling at the finishing line, along with low level of final controls. Also, AAPICO counts on a large data base (more than 5M inputs daily), worked out with artificial intelligence offering a very precise control of the process, granted on the shop floor by the company's operators.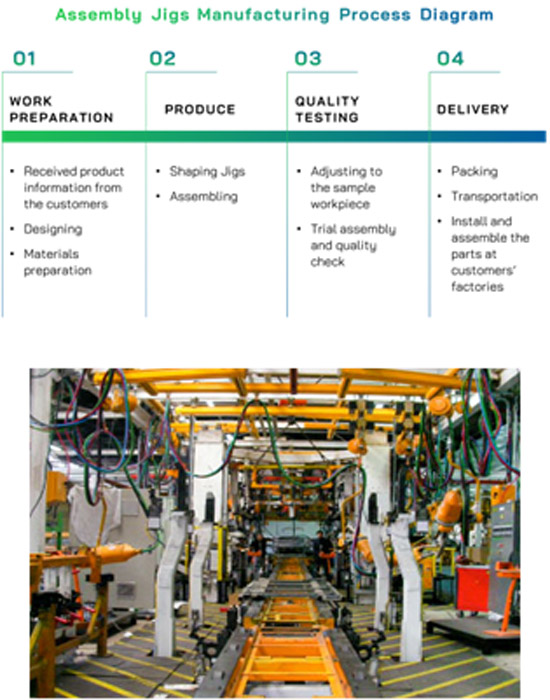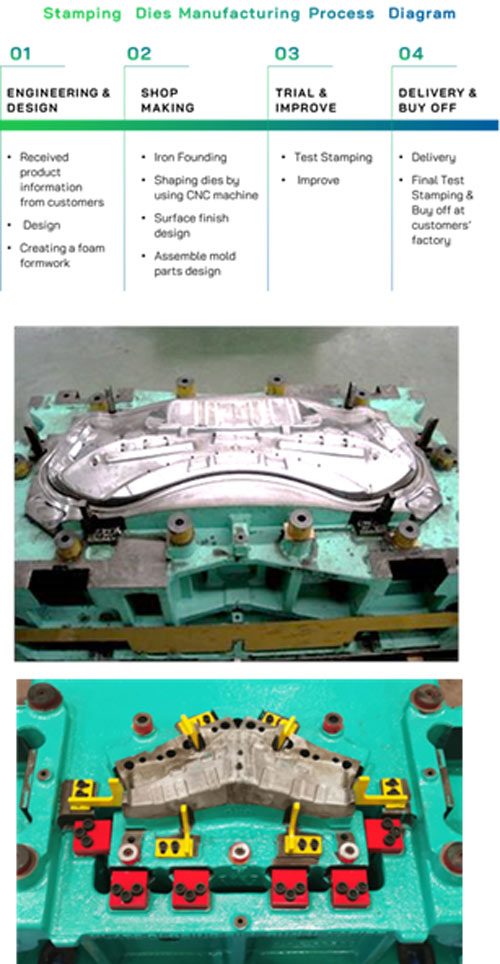 Assembly Jigs
AAPICO facilities in Ayutthaya province are responsible for the manufacturing of assembly jigs for customers. An assembly jig is an integral part in the production and assembly of automobiles. These assembly jigs are the tools that ensure the accuracy, productivity, and efficiency of car body assembly by precisely attaching each panel to be welded before welding. An assembly jig is a made-to-order product for a specific line of production or model of vehicle. AAPICO provides a full service for the design, manufacture, and installation of jigs—from concept to commissioning—including design, simulation, welding, ergonomics, time studies, and manufacture of tooling. Prior to delivery, a team of engineers conducts assembly trials and validation measurements at the try-out facility. In addition,
the company provides on-site service at the clients' assembly locations.
The installation and commissioning team have supported customers with bases around the world, including China, India, South America, Southeast Asia, and other countries, with main customers including AAT, Renault, SAIC MG, UD truck and Volvo etc.
With advanced manufacturing process simulation skills and experienced staffs familiar with technical requirements of most OEMs, the company holds a firm competitive advantage over its competitors in the business of manufacturing and supplying of assembly jigs to customers.


Stamping Dies
AAPICO provides a comprehensive range of services, including process stamping design, die design, and production. The company designs, develops, and manufactures normal stamping dies for sheet metal forming applications. The majority of AAPICO's stamping dies are designed for use in its manufacturing facilities.
The stamping die manufacturing process begins with the creation of a die layout and its simulation in CAE software to form a feasible process and predict potential problems. Then, using CAD computer software, design and sketch the die. For iron casting the die, a foam pattern is made according to the die design drawing, which is then sent to the CNC Machining Center for metal cutting and finishing. Before starting production, the engineering team will perform die trials and improvement as well as quality check.
The company applies two engineering software programs, namely:
1) Auto Form and 2) Pam Stamp for virtual reality simulation of sheet metal formability and to conduct feasibility studies with customers to ensure products' quality are achievable in accordance with the customer requirements.
The majority of AAPICO's stamping dies are designed for use in its manufacturing facilities. However, for those that are made for customers, the main customers include Ford, Honda, Isuzu, Mazda, Nissan, Topre, Toyota, and among others.
The company has a long experience of more than 30 years in stamping tandem die class C and B. It's experience of die-making and die's standard control have been learnt from many World class OEM car manufacturers.
Today, the company has also acquired additional experience in the transfer of stamping die and ultra-high tensile steel material, along with the acquisition of 3D Laser cut machine which enable the management of turnkey project for the stamping die since the process of prototype sample making up until the mass production stage – all factors of which contributed to the company's advantage over its competitors.
Get In

Touch
Address
99 Moo 1 Hitech Industrial Estate, Tambol Ban lane, Amphur Bang Pa-in, Ayuthaya, Thailand 13160
Phone
+66 (0) 3535 0880
E-mail
aapicohitech@aapico.com
We highly value your
suggestions

and

feedback

 to our company.