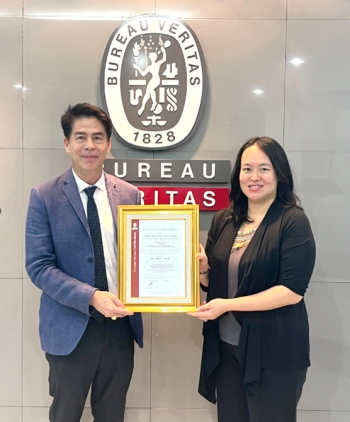 On June 8, 2023, Ms. Yeap Xin Ru (right), Chief Financial Officer of AAPICO Hitech PLC, received the ISO 14064-1:2018 certification, an international standard for the verification, measurement, and reporting of greenhouse gas emissions and reductions at the organization level, from Mr. Prawalthong Thongyai Na Ayudhaya (left), Certification Manager of Bureau Veritas Certification (Thailand).
The Company has started preparing and disclosing greenhouse gas emissions data for the first time in 2022 and has been certified according to the international standard ISO 14064-1:2018, being one of the first companies in the automotive industry to demonstrate social responsibility. This leads to a management approach to reducing greenhouse gas emissions from operations, which is consistent with Thailand's goal of becoming Carbon Neutral by 2050 and Net Zero by 2065 in order to increase competitiveness, build confidence, and respond to the needs of customers from various regions.
Being certified for this ISO 14064-1:2018 standard is considered to reinforce the company's intention in environmental priority and commitment to controlling and reducing greenhouse gas emissions from its operations, as well as the implementation of various activities in accordance with the company's goal of becoming carbon neutral by 2048.