This award highlights our commitment to supporting and employing people with disabilities in the community, and it was the first time AAPICO Hitech (AH) received this honor.
On 21st November 2022, AAPICO Hitech Public Company Limited or "AH" received the "the Outstanding Sustainability Model Organization in the Thai Capital Market for Supporting Persons with Disabilities of the year 2022" award by the Office of the Securities and Exchange Commission in collaboration with the Department of Skill Development, Department of Employment, Department of Empowerment and Development of the Life of Persons with Disabilities, Ministry of Labor, Thai Listed Companies Association and the Association of Disabled Persons Council of Thailand. In this award ceremony, Ms. Yeap Xin Rhu, Chief Financial Officer, was a representative of AH receiving the Award from Mr. Boonchob Suthamanuswong, Permanent Secretary, Ministry of Labor, and the President of the ceremony.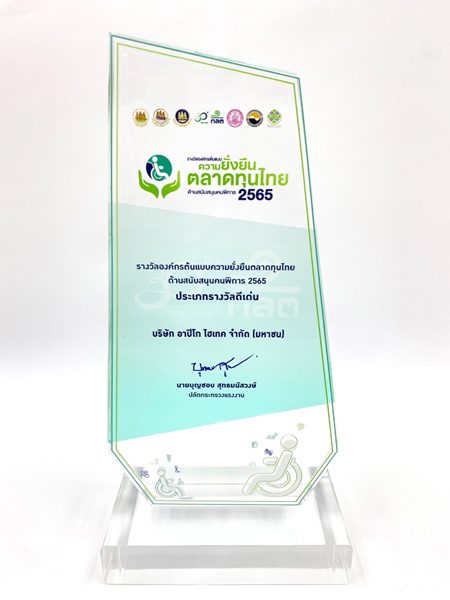 In hopes that it will be a push to create opportunities for persons with disabilities and reduce inequality, the objective of the ceremony is to honor business organizations in the Thai capital market for having promoted employment for persons with disabilities, according to the development of the quality of life of persons with disabilities under Section 33 or Section 35 of the Persons with Disabilities Empowerment Act B.E. 2007, as well as to encourage other capable business organizations to follow this footstep.

The award is a reflection of the Company's commitment to conduct business in a sustainable manner and in a way that elevates the quality of life through promoting the well-being of people in the community and the society, as well as upskill and provide educational opportunities, including equal access to welfare.  The action is consistent with the Company's vision to provide communities and employees with core values and sustainable happiness.